People Just Do Nothing is a documentary following MC Sniper, DJ Beats and the rest of the 'chamunity' as they struggle to make a name for themselves with their pirate radio station, Kurupt FM.
We are pleased to welcome Kurupt FM Takeover at dollop present… EVERYWHERE in Nottingham on Sunday May 5th, 2013.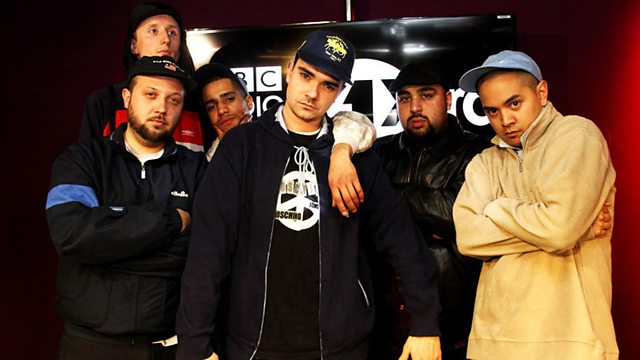 dollop: Alright boys thanks for chatting to dollop. Where are we talking to you from today?
Sniper: Yes bruvva. We're just plotting at Kurupt FM HQ. Location is a secret so we can't tell you that obviously.
Beats: Although they bated it out in that BBC thing a bit.
S: Yeah but we moved it since then.
B: Did we?
S: Nah shut up, if we say we did…
B: Oh yeah, we did. Definitely.
S: Cut all that. Just keep the first bit.
dollop: How have your lives changed since being on BBC 3?
S: It's mad. Completely different now. I mean, obviously we're still doing the same thing – keeping Kurupt FM going and everything but there's been all this other stuff aswell. Like we did a guest mix on 1Xtra one time… and we did a couple of clubnights which we even got paid for, so…
B: Did we?
S: Yeah, I did.
dollop: How was doing legit radio instead of pirate?
B: Much easier. Cos if you drop a clanger, which Steves was doing constantly, then they just cut it out.
S: Yeah but they also cut all of my stuff. We killed it for about 2 hours and they cut it down to 25 minutes. They should have just put the whole set up really but then I reckon they'd probably get loads of complaints.
B: Yeah complaints about the other DJs not being anywhere near as good.
S: Exactly, that's what I mean.
dollop: I've heard some people saying they think you're just having a laugh with all of this. What have you got to say to that?
S: Obviously I'm naturally very charismatic so that's probably what they're talking about. I'm always telling jokes and that…
B: Go on, tell one now.
S: Ah………… Nah, I'm more off the cuff.
B: Like a cufflink.
S: See that? That's the sort of thing we're doing. Wordplay. Mine are usually better than that one though.
dollop: It all looks like a smooth operation from the outside but being in Kurupt must get stressful sometimes. Whats the biggest row you guys have ever had?
S: We don't really argue. Sometimes I have to discipline the boys but there's not really arguments cos they know that I am always right. This sort of lifestyle can be quite hectic and there's dramas every now and then.
B: Tell them about Steves.
S: Yeah we got into radio this morning and Steves had burnt a massive hole in the sofa. Like, half of the whole sofa was melted away.
B: He was saying he can't sleep unless he is blazing.
S: Fair enough if you want to smoke before bed and that. But he's been going sleep with a lit zoot in his mouth so that he stays buzzing through the whole night.
B: Fire hazard.
dollop: What's the most reloads you've ever done on a tune?
B: 23.
S: Any more is ridiculous.
dollop: What's the hairiest situation you've gotten yourselves in doing pirate radio?
S: One time I got a death threat to my phone. Which was pretty intense but like I say, when you have this sort of lifestyle…
B: It was Miche's mum in the end weren't it?
S: Yeah but I didn't know that at the time otherwise I wouldn't have been worried. I'd batter Miche's mum, she's tiny.
dollop: (for Sniper) If you could clash anyone in history on the mic, who would it be?
S: Future included? Probably myself then. Like, if they had the technology to clone me then I'd be interested to clash a clone of myself. Cos I reckon you'd see that even if you cloned the body, the lyrics are actually something beyond my physical form. Beyond what scientists can understand.
B: Definitely. More spiritual. Can't clone that.
S: Well, you don't know that. Who knows what the government are keeping from us.
dollop: (for Sniper again) I know everyone here is excited to get Kurupt in Nottingham on Sunday. Do you reckon you could drop us an exclusive little 16 to commemorate it?
S: Monday is the day that we roll! Tuesday we take total control! Wednesday take back the track! Thursday sit back relax! Friday put down the m.i.c and go raving to a bit of house and g! Sunday we recommend – get down to Everywhere for the mix and blend!!!!!
B: AHAHAA!!! Remixed it!
S: You like that yeah? Didn't have Saturday in there cos it wouldn't have worked. But basically just rest on Saturday probably, if you're going out on the Sunday.
B: Yeah, you wouldn't go out two days in a row. Save yourself.
S: Like a virgin.
B: Madonna.
dollop: Nottingham's well known for supposedly having a 2 to 1 girl to boy ratio. What have you got in store for all the ladies that will be in attendance at EVERYWHERE?
S: We're used to 4 man to a girl battery sort of situation so yeah, gonna be weird for us. Obviously we'll be bringing along Fantasy, Decoy, Chabuds and that. They'll probably take the ones that we don't want.
B: Yeah we get first dibs though cos we're management level.
S: I get first dibs and you get second.
B: Yeah, I get first dibs of the ones Sniper doesn't want. So if he says no, then come find me. Look forward to meeting you all.
(Words: Christian Murphy).